Discovering the Magnificent Wat Pho in Bangkok: The Temple of the Reclining Buddha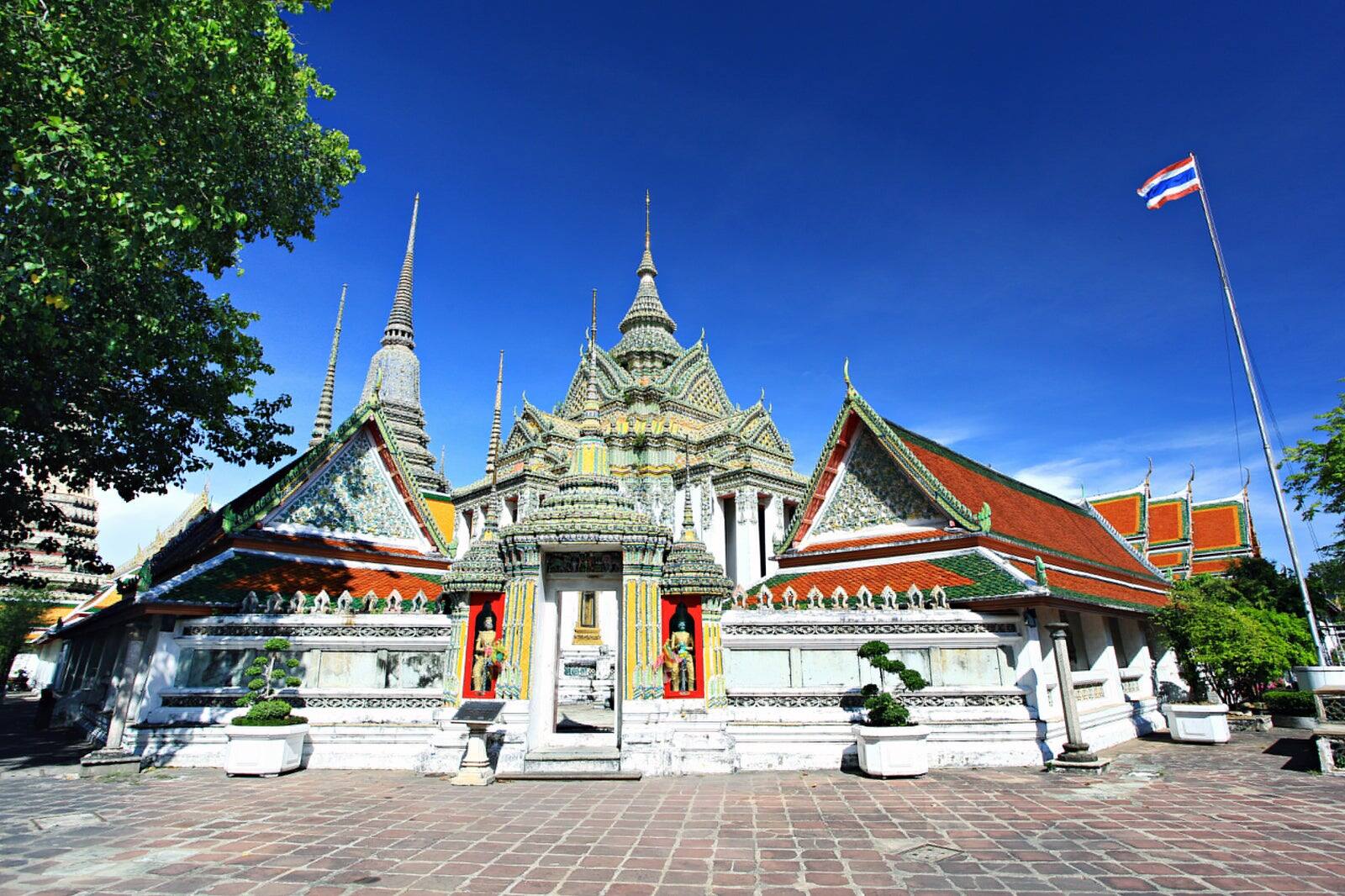 If you plan to visit Bangkok, Wat Pho, also known as the Temple of the Reclining Buddha, should be on your list of must-visit places. This temple is one of the largest temple complexes in the city and is renowned for its breathtaking Reclining Buddha that is covered in gold leaf and is a staggering 46 meters long.
In this article, we'll explore some of the highlights of Wat Pho and why it's a must-see for any first-time visitor to Bangkok.
The Magnificent Reclining Buddha
The Reclining Buddha is the highlight of Wat Pho for most visitors, and it's easy to see why. This figure is an impressive 15 meters tall and 46 meters long, making it one of the world's most extensive reclining Buddha images. The Buddha's feet are also a remarkable 5 meters long and decorated in exquisite mother-of-pearl illustrations of auspicious laksas (characteristics) of the Buddha.
You must take off your shoes to enter the hall where the Reclining Buddha is housed. You can purchase a bowl of coins at the hall entrance, which you can drop in the 108 bronze bowls that line the length of the walls for good luck. The ringing sound of the small pennies dropping in is a delightful experience, and the money goes towards helping the monks renovate and preserve Wat Pho. Visitors must wear appropriate clothing as it is a venerated image, and no exposed shoulders or skin above the knee are allowed.
Other Highlights of Wat Pho
The temple complex of Wat Pho has so much more to offer than just the Reclining Buddha. It's worth taking a stroll around the rest of the temple to appreciate the intricately detailed murals that cover the walkways around Wat Pho. Although the murals require a guidebook or guide to decipher fully, the artwork is still breathtaking.
Wat Pho is also home to four chapels that contain 394 gilded Buddha images and long lines of golden statues from different parts of Thailand sitting in the lotus position. The courtyards at Wat Pho Temple are home to 91 chedis (stupas) decorated in ceramic pottery flowers and colorful tiles.
Suppose you're interested in learning about Wat Pho. In that case, the temple has good English-speaking guides who will provide interesting information for around 200 or 400 baht, depending on how many people are in your group.
Traditional Thai Massage at Wat Pho
Wat Pho is famous for its traditional Thai massage, and it's a great place to experience this invigorating form of therapeutic massage. This massage tends to be more stimulating than relaxing and incorporates yoga-style postures to relieve stress and improve blood circulation.
After strolling around the temple complex, there's nothing like a relaxing foot or head and shoulder massage. This is a popular activity at Wat Pho, so booking a spot before your treatment is recommended to avoid a long wait.
Good to Know About Wat Pho
Wat Pho was initially established as a public university in Thailand, focusing on religion, science, and literature. Today, it's more well-known as a center for traditional massage and medicine.
The temple is situated on Maharat Road, close to the river, and is within a kilometer south of the Grand Palace in the Old Town (Rattanakosin).
Conclusion
Visiting Wat Pho in Bangkok is an unforgettable experience that should not be missed. From the remarkable Reclining Buddha to the intricate murals and traditional Thai massage, Wat Pho offers a unique insight into Thai culture and tradition.