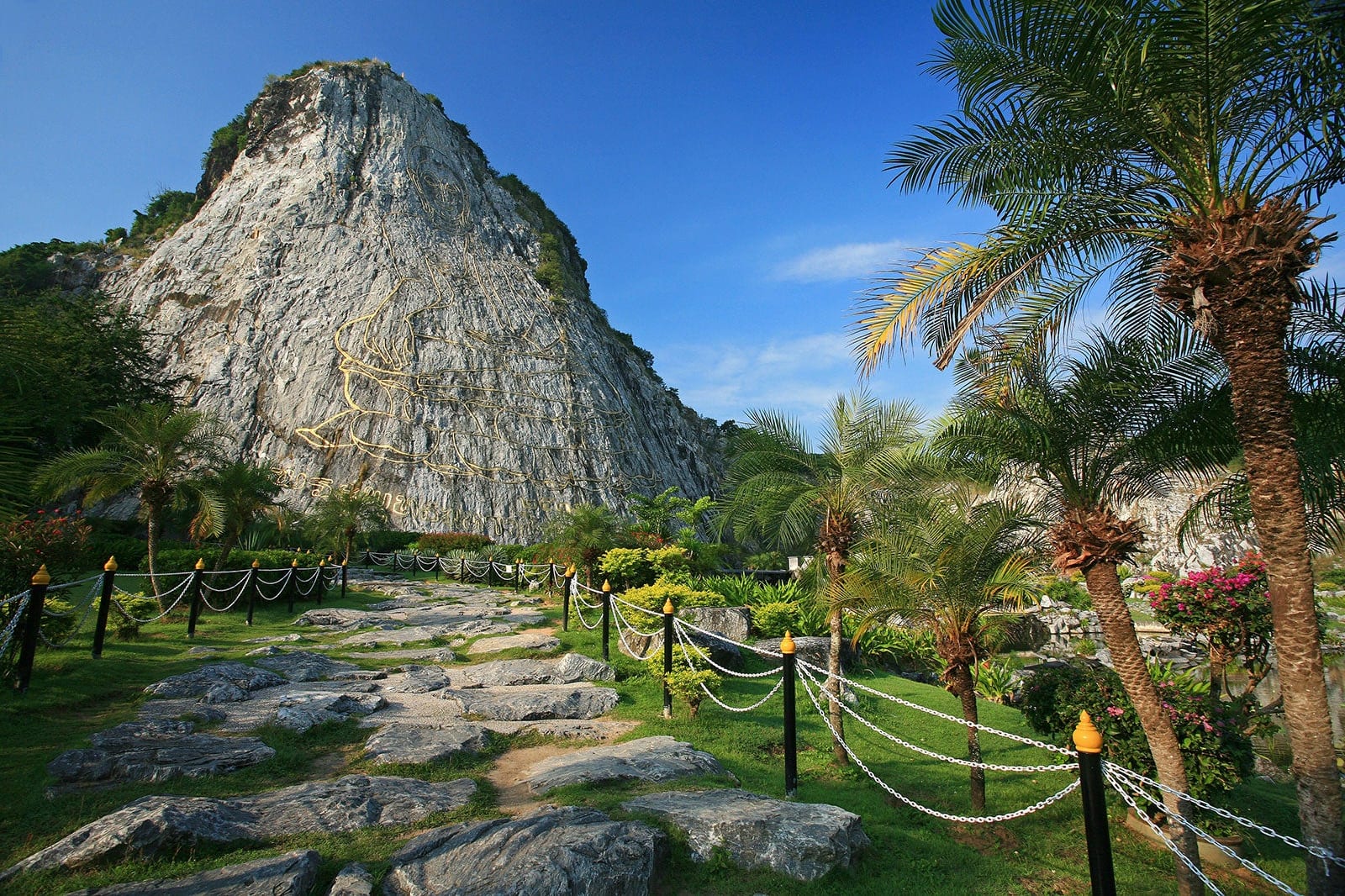 If you're looking for a unique and awe-inspiring attraction in Thailand, look no further than Khao Chi Chan, also known as Buddha Mountain. This stunning landmark is the largest engraving of Buddha in the world, and it's located in the Jomtien area of Thailand's Chon Buri province.
This article will look closely at Khao Chi Chan, exploring its history, location, and surrounding attractions. We'll also share some tips for getting the most out of your visit, including what to wear and how to get there.
A Magnificent Work of Art
Khao Chi Chan is a towering golden image of Buddha that was carved out of the side of a limestone mountain using a laser. At 130 meters in height and 70 meters across at its widest point, it's a truly impressive sight to behold. The carving was completed in 1996 to commemorate the golden jubilee of His Majesty the King of Thailand. On the recommendation of the Supreme Patriarch at the time, the image was then outlined in gold, adding to its magnificence.
A Natural Beauty Spot
Khao Chi Chan is located in an area known as "Silverlake," known for its natural beauty. In addition to the Buddha Mountain attraction, visitors can enjoy other nearby attractions. The grounds in front of the mountain include a temple, where saffron-robed monks are a common sight. It's recommended to wear appropriate clothing when visiting the temple.
Getting to Khao Chi Chan
Khao Chi Chan is located in the Na Chom Thian area of Sattahip, about 20 kilometers south of Pattaya. The quickest means of transportation is via vehicle or cab. If you're driving, take Sukhumvit Road and turn onto Soi Khao Chi Chan. There is ample parking available on-site.
Tips for Visiting Khao Chi Chan
Wear comfortable clothing and shoes to make the most of your visit to Khao Chi Chan. The temple grounds are quite large, so bringing water and sunscreen is a good idea. If you want to understand more about Buddha Mountain's past and current significance, consider hiring a tour to show you around.
In Conclusion
Khao Chi Chan is a must-visit attraction for anyone traveling to the Chon Buri province of Thailand. Its impressive size and stunning golden appearance make it a unique sight. When planning your visit, be sure also to check out the other nearby attractions in the Silverlake area. With its natural beauty and cultural significance, Khao Chi Chan is a true gem of Thailand.