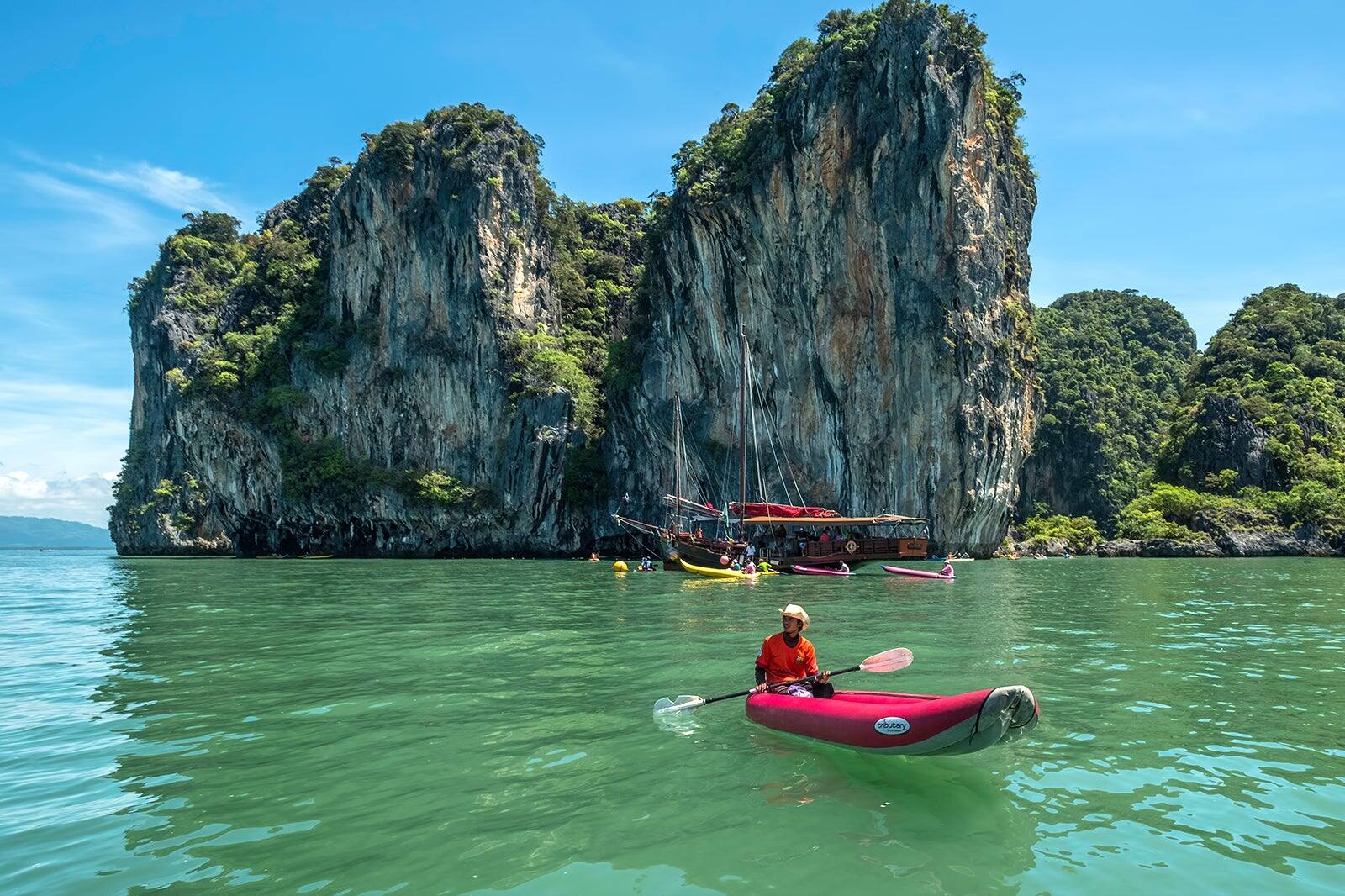 If you're seeking a truly unique and awe-inspiring experience in Thailand, look no further than sea kayaking in Phang Nga Bay. With its crystalline limestone caves and secluded hongs (collapsed cave systems), Phang Nga Bay is a nature-lovers paradise waiting to be explored.
Why Sea Kayaking in Phang Nga Bay is a Must-Do Sea kayaking in Phang Nga Bay offers an unparalleled opportunity to discover hidden caves and lagoons inaccessible to larger tour boats. As you paddle through the bay's maze-like network of sea caves, you'll be amazed by the breathtaking beauty of the surrounding limestone cliffs and jungle flora.
Don't worry if you're new to kayaking – expert guides are on hand to provide instruction and ensure your safety at all times. With their help, even first-time kayakers can easily explore this stunning part of Thailand.
What to Expect from Your Phuket Kayaking Tour One of the highlights of sea kayaking in Phang Nga Bay is visiting the hongs. These unique collapsed cave systems are only accessible by sea kayak at low tide, each with its distinct character and ecosystem. Inside the songs, you'll find monkeys, birds, and fish that can't be found anywhere else in the bay.
There are many different hongs between Phang Nga and Krabi, and local operators can take you to several of them in a single trip. Whether you're interested in wildlife, photography, or simply soaking up the area's natural beauty, a kayaking tour of Phang Nga Bay is an experience you will remember.
When to Go Sea Kayaking in Phuket The good news is that you can go sea kayaking in Phang Nga Bay year-round, regardless of the weather. While there may be some inclement weather during the low season, experienced guides can adjust your itinerary to ensure your safety and comfort at all times.
That said, if you're looking for the best weather for kayaking and sightseeing, December to March is an ideal time to visit. During this period, you can expect sunny skies and pleasant temperatures perfect for exploring the bay's hidden wonders.
In Conclusion, Whether you're a seasoned kayaker or a first-timer, sea kayaking in Phang Nga Bay is an experience you will want to experience. With its stunning natural beauty, unique wildlife, and expert guides, this is one adventure that you'll remember for a lifetime. So why wait? Book your kayaking tour of Phang Nga Bay today and get ready for an unforgettable journey into the heart of Thailand's natural wonderland.